Many people think a bunion is a simple bone prominence by the big toe. Actually, a bunion can be a progressive deformity of bones and joints. These mal-aligned structures can cause a painful "bump," but can also cause functional problems, leading to other regions of foot pain.
Bunions develop slowly. Pressure on the big toe joint causes the big toe to lean toward the second toe. Over time, the normal structure of the bone changes, resulting in the bunion bump. This deformity will gradually increase and may make it painful to wear shoes or walk.
Anyone can get a bunion, but they are more common in women. Many women wear tight, narrow shoes that squeeze the toes together—which makes it more likely for a bunion to develop, worsen and cause painful symptoms.
In most cases, bunion pain is relieved by wearing wider shoes with adequate toe room and using other simple treatments to reduce pressure on the big toe.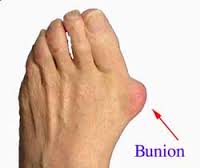 Cause and Symptoms
Bunions may be caused by:
Wearing poorly fitting shoes—in particular, shoes with a narrow, pointed toe box that forces the toes into an unnatural position

Heredity—some people inherit feet that are more likely to develop bunions due to their shape and structure

Having an inflammatory condition, such as rheumatoid arthritis, or a neuromuscular condition, such as polio
In addition to the visible bump on the inside of the foot, symptoms of a bunion may include:
Pain and tenderness

Redness and inflammation

Hardened skin on the bottom of the foot

A callus or corn on the bump

Stiffness and restricted motion in the big toe, which may lead to difficulty in walking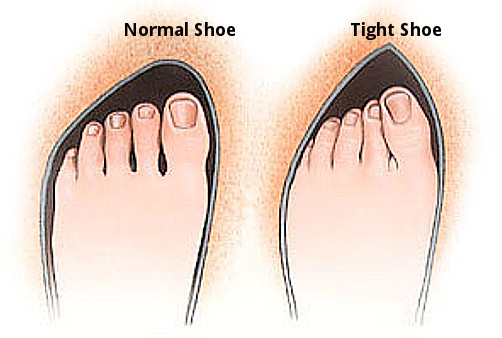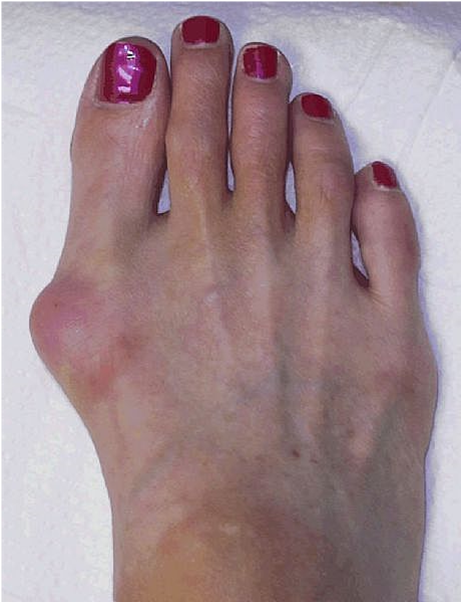 Treatment
Treating a "simple" bunion may not be so simple! An orthopedic surgeon, especially a foot and ankle specialist, would be best trained to correct a bunion, achieving lasting improvements in pain relief and function.
In most cases, bunions are treated without surgery. Although nonsurgical treatment cannot actually "reverse" a bunion, it can help reduce pain and keep the bunion from worsening.
Changes in Footwear
In the vast majority of cases, bunion pain can be managed successfully by switching to shoes that fit properly and do not compress the toes. Some shoes can be modified by using a stretcher to stretch out the areas that put pressure on your toes. Your doctor can give you information about proper shoe fit and the type of shoes that would be best for you.
Padding
Protective "bunion-shield" pads can help cushion the painful area over the bunion. Pads can be purchased at a drugstore or pharmacy. Be sure to test the pads for a short time period first; the size of the pad may increase the pressure on the bump. This could worsen your pain rather than reduce it.
Orthotics and Other Devices
To take pressure off your bunion, your doctor may recommend that you wear over-the-counter or custom-made shoe inserts (orthotics). Toe spacers can be placed between your toes. In some cases, a splint worn at night that places your big toe in a straighter position may help relieve pain.
Icing
Applying ice several times a day for 20 minutes at a time can help reduce swelling. Do not apply ice directly on your skin.
Medications
Nonsteroidal anti-inflammatory medications such as ibuprofen and naproxen can help relieve pain and reduce swelling. Other medications can be prescribed to help pain and swelling in patients whose bunions are caused by arthritis.
Surgery for Bunions
Your doctor may recommend surgery for a bunion or bunionette if, after a period of time, you have pain and difficulty walking despite changes in footwear and other nonsurgical treatments. Bunion surgery realigns bone, ligaments, tendons, and nerves so that the big toe can be brought back to its correct position.
There are several surgical procedures to correct bunions. Although many are done on a same-day basis with no hospital stay, a long recovery is common after bunion surgery.